Virtual Landline Features
Every Virtual Landline Number comes with a fully featured PBX System (VUC).
Download Brochure
Say Hello to VUC
Our Next Generation Phone System
VUC is our next generation phone system and is hosted in the Cloud which means you don't need to purchase any expensive hardware or wait for timely installations.
Audio and video calls directly from your Dashboard or link to our Mobile Applications or Handsets.
No need to install any hardware.
Direct access to your company directory from the portal.
Chats and Channels (Topics).
Audio & Video Conference Calls
Multimedia and document sharing.
Configure your Voice Menus (IVR), Call Groups, Voicemails and more all from your Dashboard.
View Pricing
Full Feature List
Voice, Video & Chat
Next Generation Collaboration -Transform the way you do business
Our newest addition of our phone system gives your employees the tools needed to communicate and collaborate like never before.
Make & Receive Phone Calls
Employees can quickly and easily make phone calls directly from their mobile phones or any web browser with an internet connection.
Group Chat
Need to manage a project or team? Simply create a new group chat and add internal staff members or external clients to the chat. Quickly schedule a video conference with all the members. 
Chat & SMS
Need to send a reminder message to a client or employee. Add your company contacts directory and send SMSs directly from your dashboard.
Video Calls
Make & receive Video Calls and share your screen with the caller quickly and easily. 
View Pricing
Full Feature List
Virtual Landline Numbers
Choose Your Virtual Landline Number
Every account comes with a Free Virtual Landline Number. Choose from 65+ countries worldwide and setup your phone system, rules and more from your dashboard. 
Make & Receive calls from your Virtual Landline number from VUC.
Set your Caller ID per user in your organisation. 
Quickly add a click-to-call link in your emails and on the web.
Configure your Voice Menus (IVR), Call Groups, Voicemails and more all from your Dashboard.
View Pricing
Full Feature List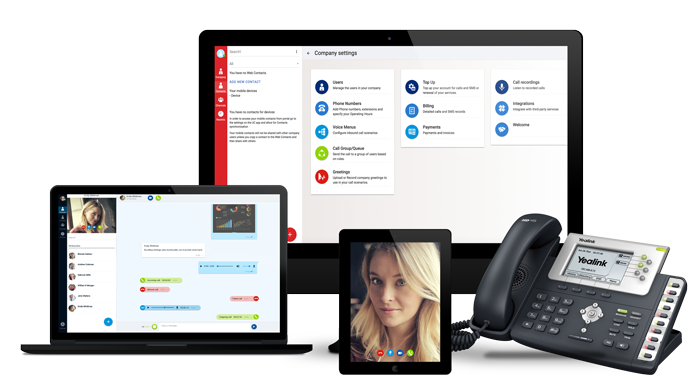 Access From Anywhere
In The Cloud
VUC is hosted in the cloud which means you can access your phone system from any device with an internet connection. Link as many phone numbers to your dashboard as required and change routing in real time.
Responsive and Clean Design
Listen or Download your Voicemails & Recordings
Update your status when unavailable
Schedule Conference & Video calls on the go
View Pricing
Voicemail to Email
Voicemails are sent to any email address you specify automatically so you can get back to your clients faster.
Multi Ring
Never miss a call and create rules for your virtual landline to ring to multiple mobiles either at once or when 'busy' or 'no answer'
Interactive Voice Menu
Set up your voice menu and direct callers to different numbers based on their selection. (Press 1 for sales and 2 for support etc.)
Professional Greetings
Create greetings by recording online, uploading greetings or by using our text-to-speech feature.
Mobile Calls
Take landline calls on your mobile anywhere. If you've got signal on your cell you've got signal on your landline.
No Hardware
Our solution is cloud based so you don't have to invest in expensive hardware to get a professional phone system.
Video Calls
Make and Receive Video calls from the VUC Dashboard or our Rich Application Suite.
Conference Calls
Use your Virtual Number as a Audio or Video Conference Call facility. Secure your Conference Calls with a PIN Code before joining the call.
Multiple Branches
Have more than one branch or location? Connect all your branches world-wide to a single phone system
User Extensions
Every member of your business can be easily contacted using their extension number.
Numbers Globally
We have numbers available globally. Choose your virtual number from 65+ countries world-wide.

Unlimited Call Recording
Decide to record calls and listen to recorded calls or download them to listen to them later.
Superb Voice Quality
Whether you make use of VoIP to receive and make calls or forwarding to your normal cellular phone, you can always expect great voice quality!
Unlimited Incoming Calls
Use our mobile applications or Dashboard and enjoy unlimited incoming calls and call forwarding at no additional cost.
Time Routing
Setup Time Routing and route calls differently based on the day and time of the call.
No Contracts
We don't hook you into long term contracts. Our service is month to month and you may cancel at any time.

Company Directory
Access the Company Employee Directory from your Virtual Landlines Dashboard.
Shared & Private Contacts
Add contacts and decide to share them with the company or keep them private.
Chat & Messages
Quickly share: Documents. Location. Voice notes. Video Recordings, Images, . Contacts.
Online Meetings
Chat, Voice and Video Meetings. Simply share your link.
"77% of customers are more likely to contact a business that has a landline advertised. It creates a sense of permanency."
Pricing & Coverage